The season of love is upon us–which calls for going all out to show your loved one just how much they mean to you–whether it's a partner, best friend, secret crush, or even your mom or dad! Lucky for you, we've compiled a list of crafts for this season to take your Valentine's up a notch. These lovely items make wonderful keepsakes or home decor items, so let's dive in! 
Valentines Tic Tac Toe: Valentines is surely about romance and love, but that doesn't mean you need to put a stop to the fun! Make the moment all the more cherishable and enjoyable by introducing a game into the mix–Valentine's tic tac toe! This alluring tic tac toe set can be decorated as you please, with paints and embellishments. You can gift the set as is, or you can keep it as part of a candlelight dinner set up to build up the fun of a special night. Here's a quick look at how we decorated it.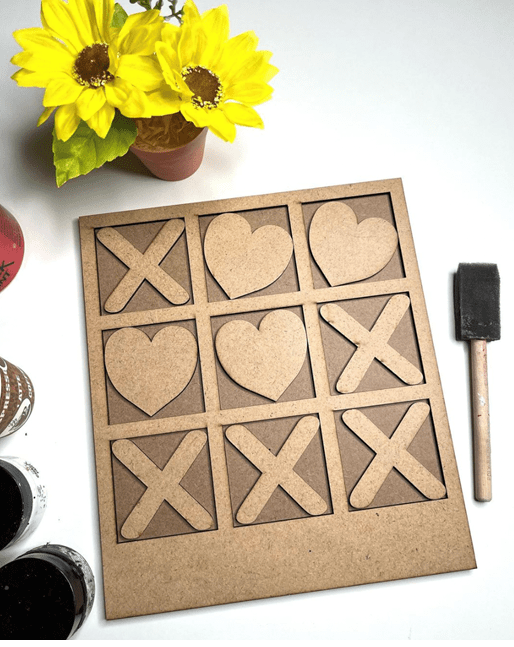 PSA: We had to highlight one of our charming decoupage papers to use this Valentine's for an array of DIY crafts. Why not decorate this tic tac toe set with these rainbow heart papers by Deco Mache?
LOVE Sign: Spread the love at home and beyond with our L O V E letters. Adorably shaped with the O mimicking a heart, this wooden alphabet set is simple but splendid in essence. You can place it around your house as is for a vintage charm, or you can paint or scrapbook over it with colours/papers of your choice to make it more interesting. This would also make a great gift for your loved one to keep around in their homes as a token of your relationship. Below is how we decorated it, and you can catch a video tutorial for the same here. 
Catch some more Valentine's wooden letter sets like the ones below over here. 
Vinyl Hearts: We've got all hearts for this one! These vinyl hearts can be made simply with your Cricut Joy machine and red vinyl. Use the hearts to jazz up your gifts, wrapping papers, or even just place them around the house in various places to set the mood for something romantic. We've taken our hearts and decorated them over a beer mug for a simple gifting option for the beer lover in your life! You can also do the same for mason jars or coffee mugs. 
 Valentine's Tags: We experimented with our Cricut Joy machines to create a splendid Valentine's tag to place on your bag or elsewhere! So simple to make yet so timeless, this tag would surely make a great token of appreciation for your loved one to flaunt around wherever they go! Catch a video tutorial for this here. These are the materials you'll need: 
And there you have it! We'd love to see what you come up with so please don't forget to share with us 

Find all the materials you'll need for Valentine's crafts on our store: https://creativecraftsdxb.com/ 
We offer worldwide shipping on our website! And if you live in Dubai, come on down to our store to get your hands on some fun craft supplies. 
Address:
Creative Crafts
Al Shraifi Building 1, Shop numbers 30&45,
Opposite Karama Post Office, Dubai