In the age of environmental consciousness, where sustainability meets creativity, there's a crafting technique that's taking the world by storm: decoupage. More than just a creative outlet, decoupage is a powerful tool for upcycling and recycling, breathing new life into old and forgotten objects. In this blog, we'll explore the art of decoupage and how it can be used to transform everyday items into unique, eco-friendly treasures.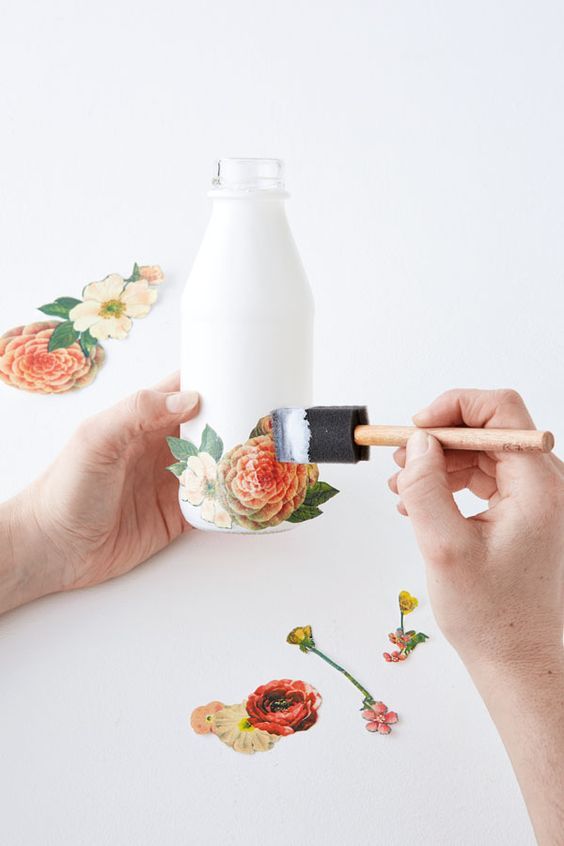 But, what exactly is decoupage? It is an art form that involves decorating objects with cut-out paper designs, then sealing them with layers of adhesive. The result? A stunning piece that retains the charm of the original item while boasting a fresh, artistic flair. And, one of the greatest joys of decoupage is the ability to personalize your creations. Whether you're decorating a plain gift box with a meaningful quote or customizing a piece of furniture to match your home's color scheme, decoupage lets you infuse your personality into every project.
Here are some of many everyday items you can transform using decoupage: 
– Furniture: Give old chairs, tables, cabinets, and dressers a fresh look.
– Home Decor: Update photo frames, lampshades, vases, and decorative boxes.
– Glassware: Add charm to glass plates, vases, and glass containers.
– Wooden Items: Transform wooden trays, coasters, and wooden signs.
– Gift Boxes: Personalize gift boxes for special occasions.
– Ceramic Items: Decorate ceramic pots, tiles, and dishes.
– Jewelry Boxes: Beautify jewelry boxes with decoupage designs.
– Greeting Cards: Craft custom greeting cards and invitations.
– Book Covers: Customize book covers and notebooks.
– Wine Bottles: Turn wine bottles into decorative vases or candle holders.
– Wall Art: Create unique wall art and wall hangings.
And many more! You will also find decoupage bases available at our store to experiment with. We'll get into that in a bit.
With how versatile the art is, it's no surprise that decoupage has been loved by all kinds of crafters and artists for its ability to completely revamp the look of everyday objects. And, if you haven't tried it yet, you're in luck, because we have all the materials you'll need for the same available on our website! 
1. Collage Paper: Whether you're layering images for a vintage effect or creating intricate motifs, collage paper offers the perfect backdrop. 
2. Decoupage Paper: These specialized papers are curated to ensure flawless adhesion and stunning results. Choose from an array of patterns, themes, and colors to suit your artistic vision. 
3. Transfer Paper: Say goodbye to tedious tracing and hello to flawless execution with our range of transfer sheets. They effortlessly get transferred to your chosen base with ease. 
4. Decoupage Medium: Whether you're looking to enhance adhesion, protect your designs, achieve a glossy finish, or make your creations dishwasher-safe, our range of decoupage mediums has you covered.
5. Decoupage Shapes & Boxes: We understand that not everyone wants to use their cherished home items as canvases for decoupage. That's why we're offering you a curated selection of ready-made bases to kickstart.
So, if you're ready to be part of this eco-concious crafting revolution, we urge you to give decoupage a try. And, do share your creations with us, we'd love to see what you come up with! For more craft ideas and inspiration, don't forget to keep up with our website, we roll in a new set of products very often for you to experiment with! You can also come down to our store in Dubai:
Address:
Creative Crafts
Al Shraifi Building 1,
Shop numbers 30&45,
Opposite Karama Post Office, Dubai