Snowglobe tumblers have earned their name for a delightful reason – they bring the charm and whimsy of traditional snow globes to your everyday drinkware! Just like the iconic collectible snow globes, these tumblers allow you to fill them up with enchanting scenes, creating a captivating snowfall effect that you can carry with you wherever you go.
With their double-walled construction and clear design, these tumblers are the perfect canvas to showcase your own little wonderland. As you tilt and shake the tumbler gently, the glitter and embellishments inside come to life, mimicking the mesmerizing snowfall you'd find in a classic snow globe.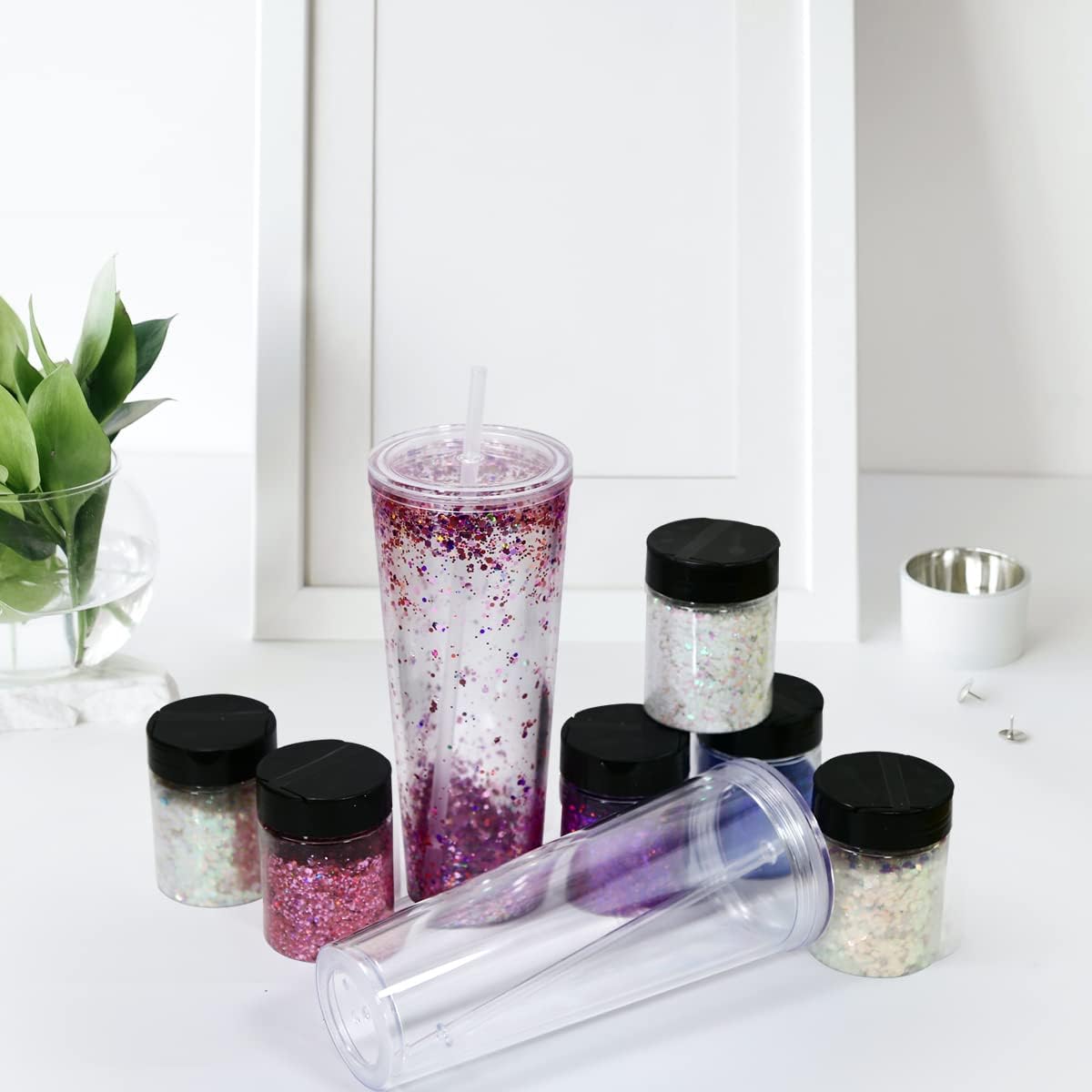 The appeal of snowglobe tumblers lies not only in their enchanting aesthetics but also in the joy of personalization. By DIY-ing your tumbler, you can curate a unique and magical scene that reflects your style and interests, with the use of glitter and other embellishments, easily available to purchase at our store. Let's have a look at all the materials: 
Snowglobe Tumblers: Our Double Walled snowglobe tumblers are the perfect fusion of practicality and enchantment! These predrilled tumblers offer you a world of possibilities; you can use them as is, apply vinyl to stylize it, or embark on a crafting adventure to create your very own mesmerizing snow globe effect. We have them available in a wide array of colours to suit your tastes!
Glitter Embellishments: Step into a wonderland of possibilities with our extensive collection of glitter embellishments, available in a mesmerizing range of colors and styles. From iridescent snowflakes to shimmering sequins and dazzling stars, each piece will effortlessly add depth and dimension to your snow globe tumbler creations. 
Step-by-Step Guide to Creating Your Snow Globe Tumbler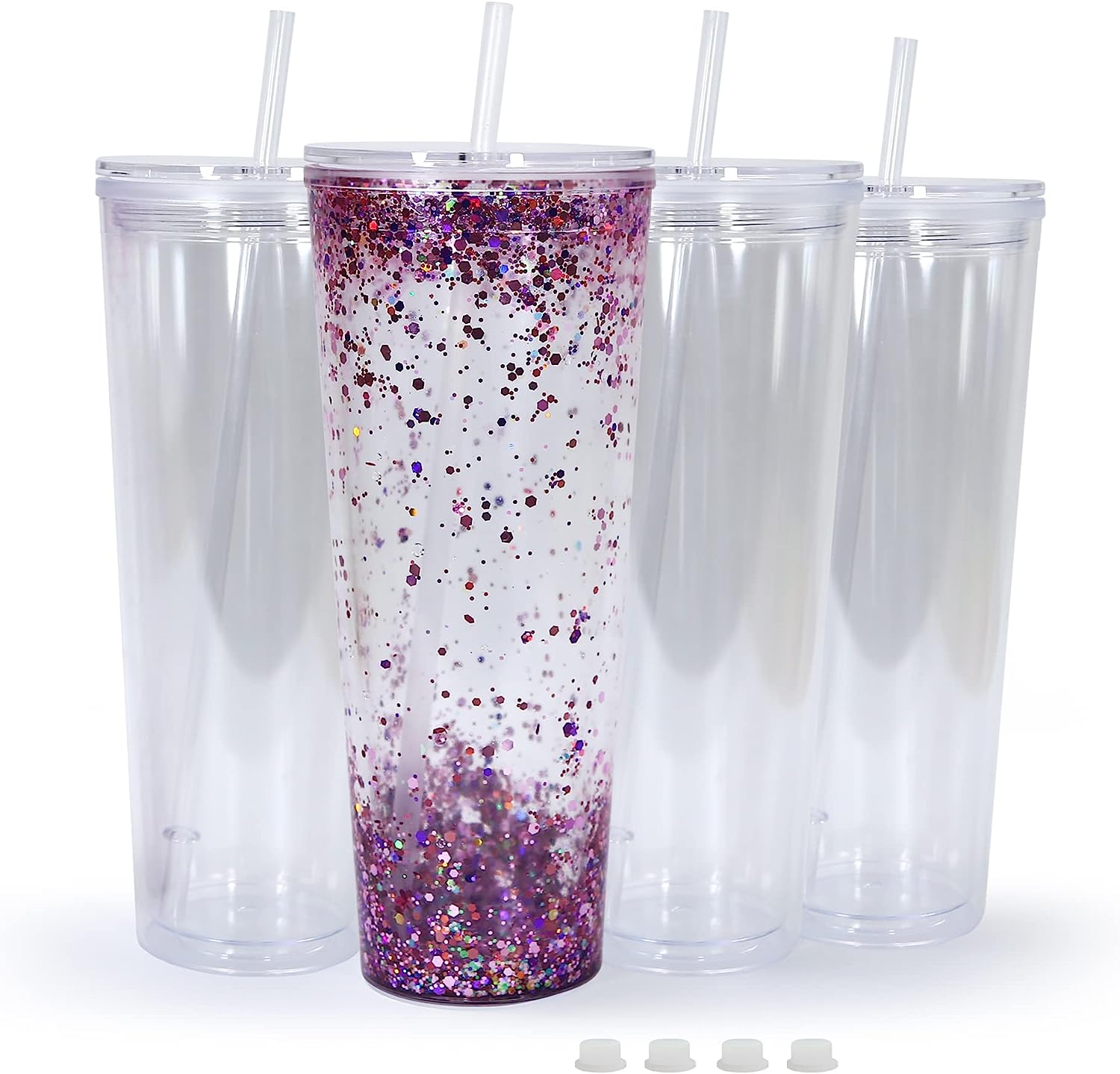 Begin by filling the inside wall of your tumbler with a delightful selection of glittering embellishments. Whether it's twinkling stars, charming snowflakes, or tiny figurines, let your creativity flow as you add the perfect touch of magic. Once filled, gently shake the tumbler to evenly distribute the enchantment throughout the space.
Next, it's time to bring the snow globe to life! Prepare a mixture of glycerin and water, and using a convenient pump, carefully inject it through the predrilled hole at the base of the tumbler. Once your tumbler is filled, securely seal the hole at the base with tape to prevent any leaks. Then, apply a touch of resin to ensure the snow globe effect remains intact and beautifully preserved. For a more in-depth visual guide, watch our reel on the same.

And there you have it! Embrace the magic of crafting and make your snow globe tumblers shine with brilliance and wonder. Let your creativity sparkle, and let your tumbler designs truly reflect the magic within you. Do share your creations with us, we'd love to see what you come up with! 


Head to our website to check out our range of products: www.creativecraftsdxb.com 
Lastly, if you live in Dubai, do come give us a visit, we'd love to see you!
Address: 
Creative Crafts
Al Shraifi Building 1,
Shop numbers 30&45,
Opposite Karama Post Office, Dubai