Are you tired of settling for generic, boring gift-wrapping materials that don't quite match your style or personality? Look no further! Creative Crafts has got you covered (literally) with our amazing collection of gift-wrapping materials that will make your presents stand out from the rest. We have an all-new range of unique materials to add a touch of personality to your gifts. So get ready to wow your loved ones with beautifully wrapped presents, courtesy of Creative Crafts! Let's dive in:
 Tissue Wrapping Paper:

Whether you're looking for a classic, elegant wraparound for your present, or even something fun and quirky, our range of tissue papers has you covered, perfect to add a pop of color and style. Our collection includes a variety of bold colors, subtle pastels, and even prints that will make your gifts stand out from the rest. 
2. Ribbons: Looking for the perfect finishing touch to elevate your gift-wrapping game? Look no further than Creative Crafts' stunning collection of ribbons! We offer a wide range of options, including metallic ribbons that add a touch of glamour and sophistication, and quirky ribbons that are perfect for those who love to add a playful and whimsical touch to their gifts.

3. Flowers: Adding a little floral flourish to your gift wrapping can truly take your presents to the next level. That's why we offer a beautiful selection of gift-wrapping flowers, including hydrangeas, peonies, and roses. These gorgeous blooms come in a range of colors to suit any occasion, from soft pastels to bright and bold hues.
These are just a few of the many beautiful materials we have. Check out the entire range here.

But we don't just want to tell you about our products – we want to show you what they can do! That's why we've attached some pictures below of our take at creating presents using these materials. We hope these images give you some inspiration and ideas for your own gift wrapping endeavors.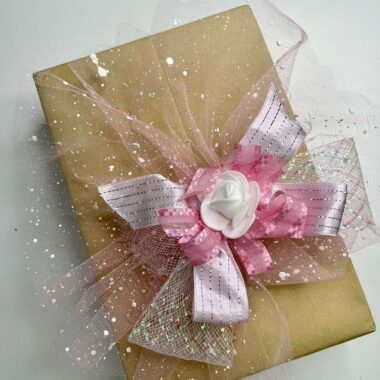 Thank you for taking the time to read about our collection of gift-wrapping materials. We hope you'll visit our online store and explore our full range of products. We also have a Ramadan Sale ongoing on our website until the 22nd of April, so don't forget to fill your carts and take advantage of some steal deals by using the code RAMADAN15 during checkout. Happy gifting!


Lastly, if you live in Dubai, do come give us a visit, we'd love to see you 


Address: 
Creative Crafts 
Al Shraifi Building 1, 
Shop numbers 30&45, 
Opposite Karama Post Office, Dubai